Page 2 - PREMIER - PAN - LOURENS - DRAFT ORDER - AUG 2017 | LOURENS PROKUREURS
P. 2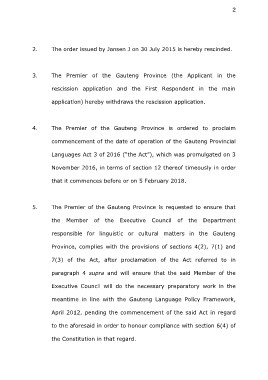 2

2. The order issued by Jansen J on 30 July 2015 is hereby rescinded.

3. The Premier of the Gauteng Province (the Applicant in the
          rescission application and the First Respondent in the main
          application) hereby withdraws the rescission application.

4. The Premier of the Gauteng Province is ordered to proclaim
          commencement of the date of operation of the Gauteng Provincial
          Languages Act 3 of 2016 ("the Act"), which was promulgated on 3
          November 2016, in terms of section 12 thereof timeously in order
          that it commences before or on 5 February 2018.

5. The Premier of the Gauteng Province is requested to ensure that
          the Member of the Executive Council of the Department
          responsible for linguistic or cultural matters in the Gauteng
          Province, complies with the provisions of sections 4(2), 7(1) and
          7(3) of the Act, after proclamation of the Act referred to in
          paragraph 4 supra and will ensure that the said Member of the
          Executive Council will do the necessary preparatory work in the
          meantime in line with the Gauteng Language Policy Framework,
          April 2012, pending the commencement of the said Act in regard
          to the aforesaid in order to honour compliance with section 6(4) of
          the Constitution in that regard.